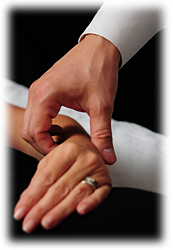 New Patients
Preparing For Your Treatment
Your first visit will begin with an in-depth assessment of your condition and an initial treatment. The intake and treatment may take up to 1.5 to 2 hours. Typical follow-up treatments last one hour.
Bring a list of current medications you are taking, including any prescriptions, over-the-counter medications, herbal supplements and vitamins.
Bring any lab or medical reports relevant to your conditions.
Avoid drinking caffeine before your treatment time.
Eat a light meal two hours prior to your visit.
Wear loose, comfortable clothing. If necessary, a gown can be provided.
Please be on time. There will be a charge for missed appointments without 24 hours notice.
Health History Form
You can fill out a health history form at the office of Gadar Oriental Medicine prior to receiving your initial treatment.
Insurance
Gadar Oriental Medicine accepts most major insurance providers and will happily bill your insurer for your visit. It would be helpful for you to call your provider in advance to determine what your coverage is. To help facilitate your first appointment, you can contact us to send you a checklist of questions to ask your provider.